Implementing a fully-integrated UCaaS solution is challenging, but it can significantly enhance the customer service experience by increasing client engagement and optimizing operational processes. With UCaaS, insurance companies can establish seamless communication with agents and personnel anywhere with a stable Internet connection. This not only supports a hybrid work environment by enabling greater mobility for agents, it also allows for overseas staff members to make and receive calls as if they were in the local Canadian market.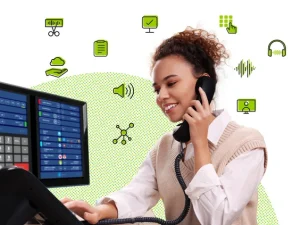 By adopting cloud-based unified communications, insurance companies can honour their duty of care for sensitive data storage. All critical client information gathered over UCaaS, like shared files, chat logs, and call recordings are securely recorded and stored in the cloud. 
Even the most specialized calling products, like trader turrets and call-centre systems have cloud-hosted alternatives, that can be integrated seamlessly into UCaaS platforms, thereby eliminating siloed workflows. This is especially true if the UCaaS solution is integrated with Customer Relationship Management (CRM) software: when clients call in with inquiries or concerns, agents can promptly retrieve their information from the CRM system, enabling a more personalized and timely response to address their needs.  
 What are the risks?  
Like anything else that lives on the Internet, both Voice Over IP (VOIP) phone services and UCaaS platforms face cybersecurity risks. Integrating PSTN into UCaaS creates a new, larger, and more complex "attack surface" than if you keep your phone system separate. With integrated calling, calls happen over the Internet, from any device, and running as an app, so there are more vectors by which bad actors can access sensitive data, whether in storage or in transit. 
Here are the biggest areas of concern: 
1. Compromise of content store 
The wealth of client data that insurance companies handle, including assets, financial records, business and family relationships, demographics, addresses, and call records, requires stringent security measures.  Most UCaaS platforms store administrative tools and login information, as well as collaboration content (i.e., chat logs, and call recordings) in their own networks. Whether it's locally, or on the Cloud, you need to be confident that their network storage is secure. 
2. Data intercept 
By nature, the calls insurance companies receive or make contain extremely sensitive information. Un-encrypted voice and media streams are more vulnerable to intercept than calls on a traditional PSTN network because they happen over the Internet. Intercepts can expose calling and called party information, instant messages, and other content data, as well as the actual voice or video calls themselves. 
How does Beanfield mitigate that risk? 
In terms of securing stored content…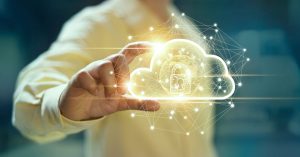 The most popular, commercially-successful UCaaS solutions happen to be the best at keeping data safe – so a data breach coming from their side is unlikely. They ensure end-to-end encryption and have a reputation for keeping their networks secure. Some of the top UCaaS providers can even let you take advantage of your existing secured cloud and integrate it with their platform, so you don't have to worry about having data on multiple networks. 
UCaaS platforms with less-robust security quickly fell out of favour since 2020, in no small part because they couldn't cut it in terms of security. For this reason, you should be weary of smaller, less reputable players.  
To protect data while it's in transit…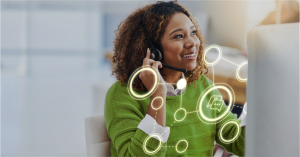 The best way to protect data in transit is to encrypt it. Encrypting data ensures that anyone who would intercept it would find it to be unusable. To ensure that the data is encrypted through its entire journey, it needs to be encrypted at the endpoints  (be it hard endpoints like desktop phones, or a software endpoint like an app running on a computer or mobile device) with encryption protocols. 
With so much at stake, it's important to work with a trusted provider to integrate your communication systems. The right provider should provide simple, cost-effective calling plans, complete end-to-end planning and migration services, advice on bandwidth demand, as well as security and compliance concerns. And most importantly, the right provider will hand off a ready-to-use, easy-to-administer system that meets your needs.