As a 2SLGBTQA+ founded and run company, Pride month holds not only a special place in our hearts, but a vital importance for our lives.
The celebrations we attend and organize – while fun, family friendly and joyous – are also about recognizing and remembering that prejudice, bigotry, violence and hate are never totally eradicated. The joy we experience at a Pride parade or event is a collective release and exclamation that the basic human right to love whomever you want and be whomever you want must always be protected and fought for – regardless of your own personal orientation, ideology or religion. Pride IS political and so, as a company, we proudly embrace that history of activism and responsibility.
Beanfield has always participated in Pride in some way or another to show our support for our 2SLGBTQA+ employees, customers, and the communities we serve. This year, we hosted a brand new event, ConneXion, in Montreal at the Beanfield Theatre in collaboration with Montreal Pride, and in the coming days we'll have our 2nd Annual Pride Primer. Both are free to the public and packed with queer talent.
The unfortunate truth is, we are used to receiving a couple pieces of hate and bigotry when announcing that we're hosting or sponsoring a Pride event, however, this year we are sad to report that the response has been more disturbing than ever, with a 3-4x increase in these messages.
Here is a SFW sample…
"This is a DISGRACE."

"As a…customer with traditional values, I find this…offensive."

"Not interested in this nonsense."

"Why does Beanfield not stick to selling internet access instead of offending customers?"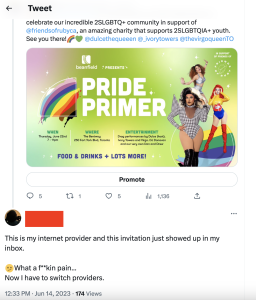 This kind of hate – especially when cloaked in the language of "traditional values" – is pernicious and unacceptable. We view these renewed attacks as trying to reverse hard won – and deserved – freedoms and an affront to the very notion of equality, freedom and basic human rights. We categorically reject them. While these attacks anger, frustrate and sadden us, we refuse to respond in kind. Instead, while acknowledging the harm caused and how difficult it is not to react similarly, we have committed to reacting with a goal to engage and discuss.
Our company was founded on the belief that connectivity should be an accessible right for all…and that increased connectivity will create new and more lines of communication. The rise of social media and its algorithms that promote content that is shocking or controversial – from every side of a social or political spectrum – has twisted our public dialogue into monologues. Where we used to have concern for whomever was on the receiving end of our words – because we actually wanted to be heard – we now have shouting matches and vitriol.
Despite that, we are hopeful and still deeply believe that the only way forward is more connectivity, more accessibility and more communication. The famous saying that the "pen is mightier than the sword" is apt and serves as a good reminder about how words can cut and wound, but also how they can heal and bring freedom to those who are oppressed.
We are proud to do our part to ensure lines of communication are kept open and that we lead, always, with empathy and compassion towards those who think or feel differently than we do – even if they mean us harm. Our motto, How It Should Be, can be viewed as just a tagline from a company, but for us, it is a statement, a mantra and a reminder to always do the right thing and to treat others with the respect and kindness with which we wish to be treated.
As Pride month culminates, we reiterate our hope and desire that we connect to each other with curiosity instead of condemnation, reflection instead of rejection and thoughtfulness instead of thoughtlessness.
We look forward to celebrating with all of those who support the 2SLGBTQA+ community and lead with love.